"My name is Legion, for we are many."
The Baali are explorers, first and foremost – students of the unknown, the unknowable, the unspeakable. Their eyes and ears glean forgotten secrets. Theirs is the secret song that has echoed through eternity since their nameless progenitor first struck the discordant chord that fractured the wall between worlds. And theirs are the steady, patient fingers that have picked at the wound ever since. They are falling, spiraling into nadir, plagued by some inescapable degeneration of spirit that claims more of their number with every passing night, doomed to a slow, steady passage from magician to monster to memory. Yet still they toil for the erosion and eventual destruction of this world, to make way for Those Who Wait Beyond.
Heirs to the Blood reprint bundle 1 is a fixed assortment of 120 cards for Vampire: The Eternal Struggle – 60 library cards and 60 crypt cards of clans Baali, Blood Brothers, Gargoyles, Harbingers of Skulls, Nagaraja and Samedi. All were first created for the original Heirs to the Blood expansion 2010, since long out of print and in great demand among players.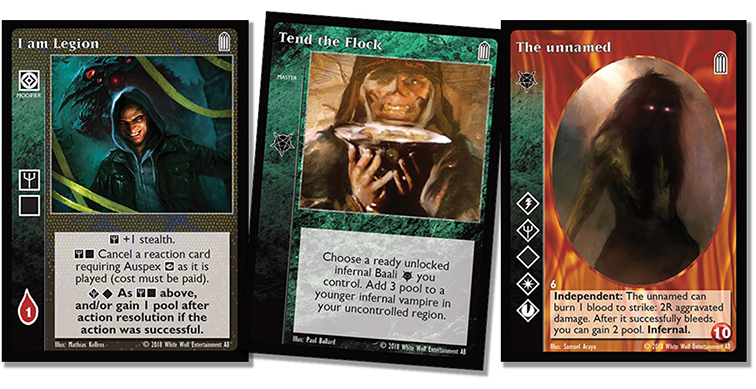 The cards in Heirs to the Blood reprint bundle 1 that relates to Baali are:
2 Annazir
2 Arishat
3 The Horde
2 The unnamed
2 Xeper, Sultan of Lepers
2 Flames of the Netherworld
2 I Am Legion
1 Infernal Servitor
3 Shatter the Gate
2 Tend the Flock
1 Veneficti
The number before each card name is the number of copies of that card in the bundle.
NOW AVAILABLE ON DRIVETHRUCARDS.COM AND THROUGH DISTRIBUTORS: HEIRS TO THE BLOOD REPRINT BUNDLE 1 AND 2
ALSO AVAILABLE: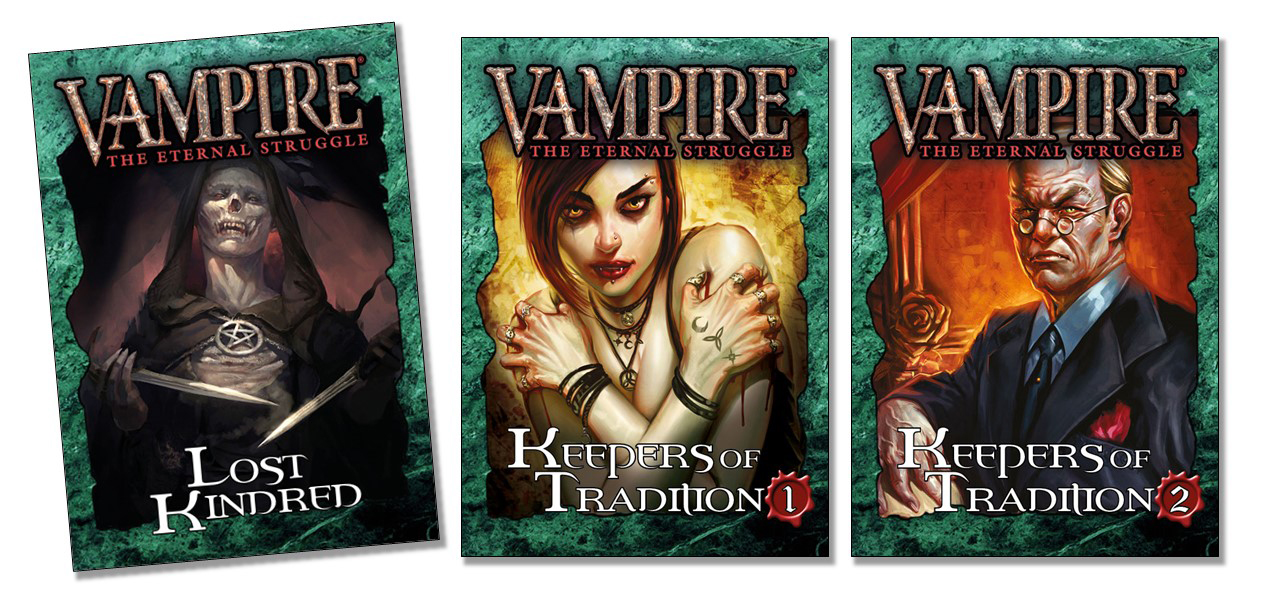 Copyright © 2023 Paradox Interactive AB. www.paradoxinteractive.com. All rights reserved. Vampire: The Eternal Struggle and Vampire: The Masquerade® are trademarks and/or registered trademarks of Paradox Interactive AB. All rights reserved.