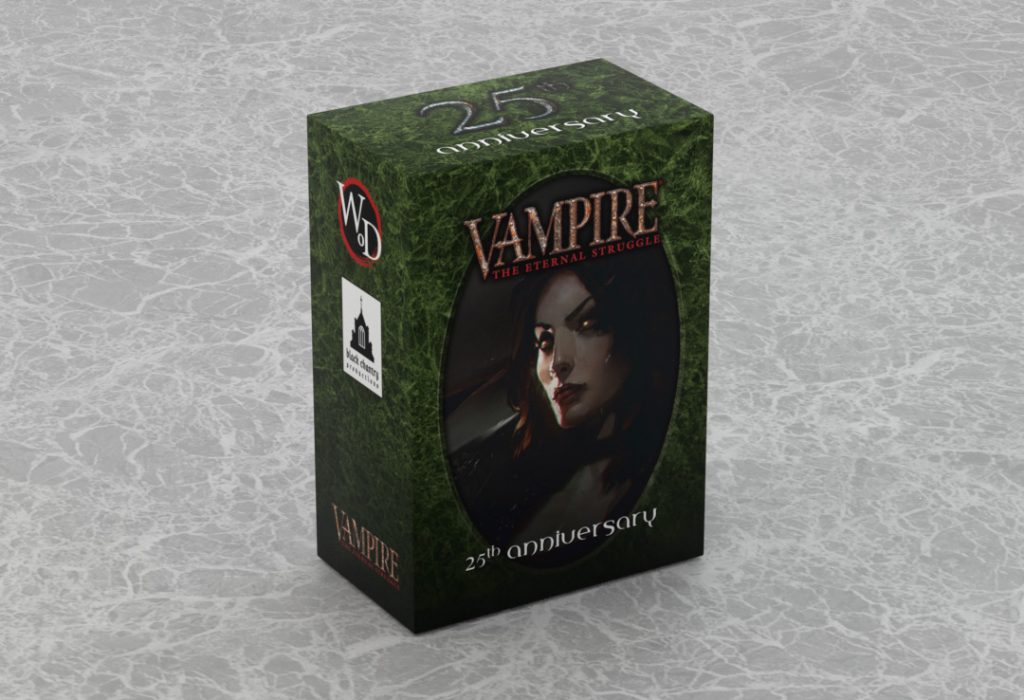 The 25th Anniversary product for Vampire: The Eternal Struggle contains:
a 100 card preconstructed deck, one of the games most classic deck archetypes,
an extra 18 iconic cards, reprints from all eras of the game's history,
two copies of a powerful vampire new for this set.
Like the previous 2019 preconstructed decks, this product holds many sought-after reprints, making it attractive for existing players. It is also suitable for new players who want to start with a powerful but not overly complicated deck. The deck is ready for play out of the box or customisable with other Vampire: The Eternal Struggle cards. Each player needs a deck to play.
SKU: BCP023 (English) / ES023 (Spanish) / FR023 (French)
MSRP: €22 / $24
Contents are detailed below. The number before each card is the number of copies of that card in the deck.

PRECONSTRUCTED DECK: "Reign of Stanislava"
Crypt (12 cards)
2 Hartmut Stover
2 Ingrid Rossler
2 Mark Decker
4 Stanislava
2 Xaviar (Adv)

Library (88 cards)
Master:
1 Backways
1 Coven, The
1 Dreams of the Sphinx
1 Ecoterrorists
1 Ennoia's Theater
1 Fear of Mekhet
1 Giant's Blood
1 Information Highway
1 Monastery of Shadows
1 Pentex(TM) Subversion (NEW ART)
5 Villein
4 Zillah's Valley

Action:
7 Govern the Unaligned

Political Action:
1 Anarchist Uprising
1 Ancient Influence
1 Ancilla Empowerment
2 Banishment
4 Kine Resources Contested
1 Neonate Breach
5 Parity Shift (NEW ART)
1 Permanent Vacation
1 Political Stranglehold
1 Reins of Power

Action Modifier:
1 Beast Meld
1 Foreshadowing Destruction (NEW ART)
4 Earth Control
1 Enkil Cog
3 Forced March
3 Freak Drive (NEW ART)
3 Instantaneous Transformation

Action Modifier/Combat:
2 Rapid Change

Action Modifier/Reaction:
2 Murmur of the False Will

Combat:
6 Earth Meld
6 Form of Mist (NEW ART)

Reaction:
6 Deflection
3 On the Qui Vive
3 Second Tradition: Domain
ADDITIONAL CARDS (20):
1 Alamut
1 Ankara Citadel Turkey, The
1 Black Metamorphosis
1 Camarilla Vitae Slave (NEW ART)
1 Entombment
1 Femur of Toomler
1 Form of Corruption
2 Grimgroth (NEW CARD)
1 Hand of Conrad
1 Heidelberg Castle, Germany
1 Homunculus
1 Khobar Towers
1 Legendary Vampire
1 Life Boon
1 Rutor's Hand
1 Sargon Fragment, The
1 Signet of King Saul
1 Talbot's Chainsaw
1 Una
Note: An earlier version of this product came in an exclusive, sturdy deckbox. This version comes in a standard tuckbox.
READ MORE: Contents and card changes in 25th Anniversary revealed
ART AND CARD PREVIEWS:
Copyright © 2023 Paradox Interactive AB. www.paradoxinteractive.com. All rights reserved. Vampire: The Eternal Struggle and Vampire: The Masquerade® are trademarks and/or registered trademarks of Paradox Interactive AB. All rights reserved.