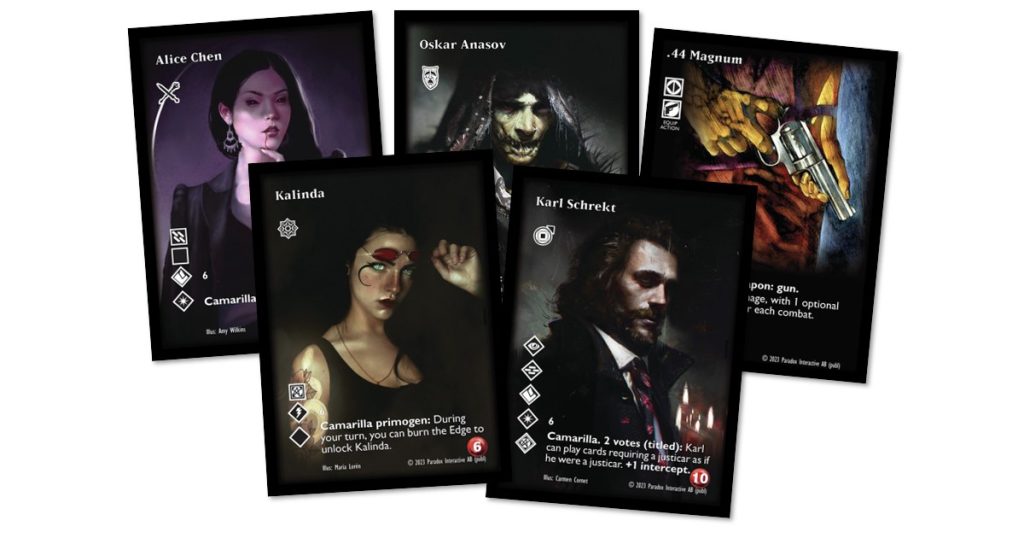 Author: Hugh Angseesing
Created: 28th July 2023
Modified: 30th of July 2023, José María Prieto, 20th of August, Ginés Quiñonero

Why do we have promotional cards?
Promotional cards are there to encourage players to attend events, be that store organised or wider community events or to get involved with projects e.g. crowd funded tie-ins.

This means that promotional cards are not necessarily readily available to all players all of the time.

Types of promotional cards:
– Pack of promotional cards available via distribution for stores to organise events. These are known as "Promo Packs", that contain a mix of crypt and library cards. New packs are released every year.
– Cards designed for events, be it a big tournament or a special event.
– Cards designed for partner events e.g. releases of new board games, computer games or other items

How to get promo cards?
1. Some cards are available to order from stores/distribution for events, e.g. Promo Pack 3.
2. Some cards are available from the webstore as a bundle pack for event organisers. Please contact the webstore directly for information on this.
3. A number of cards are available to National Coordinators/other major organisers on a discount list so those cards can be ordered directly from Drivethrucards.com for 15 cents per card plus tax and shipping.
4. If these channels do not work and you would like cards for an event please email us at orgplay@blackchantry.com
5. Older promotional cards and packs will go up on Drivethrucards,com and will be available for everybody e.g. Promo Pack 1 and Promo Pack 2.
6. Back the relevant crowdfund for some specific partner promotional cards.

How do I get a specific card made?
Black Chantry Productions is open to making new promotional cards to support larger and special events where we can.

If you are interested in getting an exclusive promo card for a special event, please email us at orgplay@blackchantry.com.

All cards are subject to design and artwork approval by Paradox Interactive, so if you're offering a piece with ready made artwork, please understand that there's a reasonable chance we will not be able to use it.

Key things that are important in this process:
1. Contact us as soon as possible with the dates of the event and let us know how much time is there to produce artwork, design a card, get it printed and shipped. As a recommendation, we suggest that you contact Black Chantry at least 6 months in advance.
2. Generally at this moment we are taking old cards and providing new artwork or taking a current card and making it "Full Art".
3. Occasionally we will print brand new cards as promotional cards but this is most likely to be done in concert with a partner or for a very special reason.
4. We aim to minimise the volume of special promotional cards we distribute and maximise their reuse across multiple events due to the resource-intensive nature of card production.

Best practices for promotional cards:
– Promotional cards have to be handed out during the event which are intended, be it demo games or tournaments, and only to players participating in the event and organisers.
– If there are any promotional cards left after the event, with the approval of Black Chantry, they can be saved for further events of a similar nature.
– Organisers cannot sell any promotional cards under any circumstances.

General Availability:

1. Promotional Packs (e.g. Promo Pack 1)
We produce these packs at a printer (e.g. Cartamundi) and these are made available for distribution.

These packs will generally be available for around a year in our general distribution network. This does depend on how many we print and how many are ordered.

Once the original print run has been used up have been intend to put these cards up on a print on demand service e.g.:
– Promo Pack 1
– Promo Pack 2

2. Partner Cards
We occasionally have the good fortune to produce cards with a partner (e.g. Boleslaw Gutowski with Alis Games, Alicia Cortex and Tegyrius, Vizier with By Night Studios, Gabriel Tremblay with Flyos Games.)

The partners have agreed to broaden the availability of these promotional cards, which will happen around a year after the initially intended release. However, the cards will typically feature a different expansion symbol, such as the removal of the partner-specific symbol.

3. Event Cards
For events such as the Grand Prix circuit and National and Continental Championship events Black Chantry will often produce promotional cards.

The arrangement with the event organisers entails expanding the accessibility of these promotional cards, usually about a year after the event has taken place. In some cases, the cards may feature a modified expansion symbol, like the exclusion of the Grand Prix symbol.

Other support
Sometimes other support will be provided either for free or at a reduced price, such as the New Blood decks for demo work.

For these particular New Blood decks, organisers have the option to sell them at cost, solely intended to incentivise new players to join the game and support them during their initial stages. This approach also serves to prevent or minimise financial losses for the organisers.
Copyright © 2023 Paradox Interactive AB. www.paradoxinteractive.com. All rights reserved. Vampire: The Eternal Struggle and Vampire: The Masquerade® are trademarks and/or registered trademarks of Paradox Interactive AB. All rights reserved.