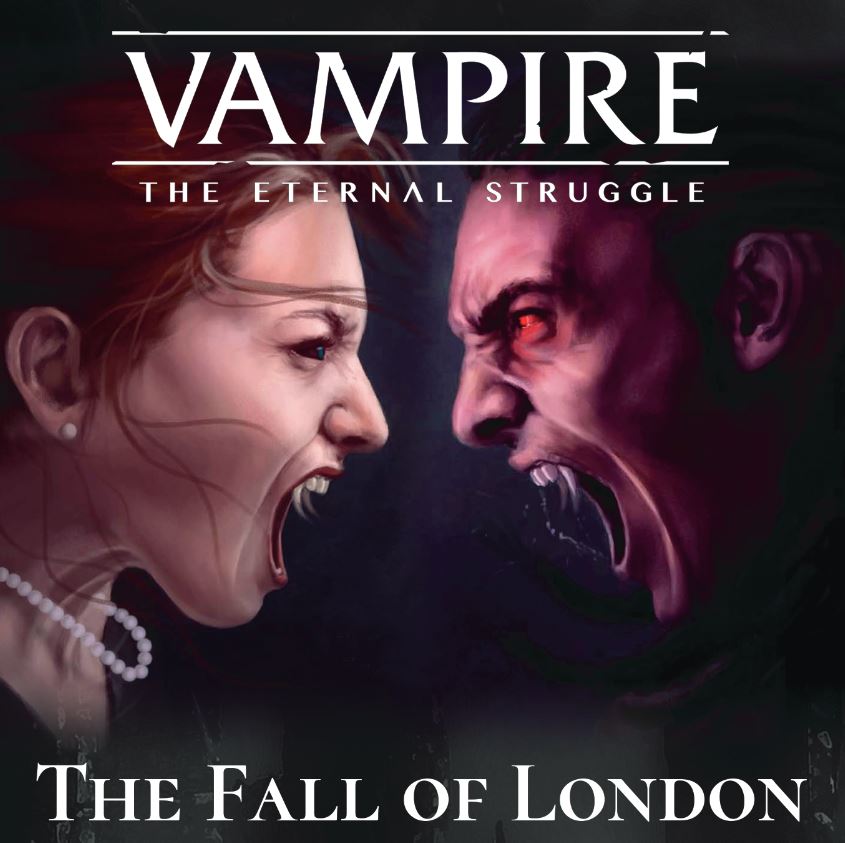 The vampiric society of London trembles. Mithras, ancient Kindred god-ruler of Britain, has returned to claim his domain. Will you join his cult, or will you dare to defy his plans? At the same time the Second Inquisition launches a massive operation to hunt down and destroy the city's undead residents. Are these your final nights, or can you use this crisis to gain advantage over your enemies?
This set is a fixed assortment of 40 crypt cards and 14 library cards for Vampire: The Eternal Struggle, all brand new, never printed before, ready to mix with other cards for the game to construct your own deck (each player needs a deck to play).
Languages: English, French, Spanish
SKU: BCP039, ES039, FR039
MSRP: £11 / €12 / $13
Contents are detailed below. The number before each card is the number of copies of that card in the deck.
Crypt cards (40)
2 Abraham Mellon
2 Adelino da Silva
2 Adisa
2 Ayse Dhanial
2 Chun Hei
2 Daria
2 Darius Shirazi
2 The Guardian
2 Gwenllian Arwyn
2 Lady Scarlett Churchill
2 Mickey Wheeler
2 Mithras
2 Oskar Anasov
2 Queen Anne
2 Regina Blake
2 Richard de Worde
2 Rose Abawi
2 Rowena
2 Sri Sansa
2 Valerius

Library cards (14)
2 ECTU Operative
2 Enhanced Coagulant
1 Michael Harris, the Incinerator
3 Mithraic Cultist
1 Mobile HQ, Operation Antigen
1 Ritual Goblet
1 The British Museum, London
1 The Mithraeum, London
1 The Shard, London
1 Valerie Diaz, Antigen Commander
Total: 54 cards
This product can be used with the associated Storyline: The Fall of London rules
PREVIEWS:
Copyright © 2023 Paradox Interactive AB. www.paradoxinteractive.com. All rights reserved. Vampire: The Eternal Struggle and Vampire: The Masquerade® are trademarks and/or registered trademarks of Paradox Interactive AB. All rights reserved.