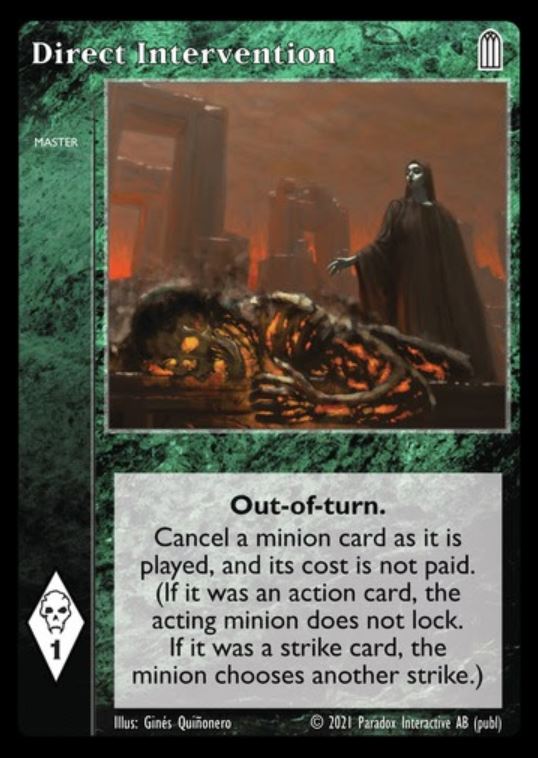 Hi all!

Black Chantry are delighted to tell you that a classic card is now available on Drivethrucards: Direct Intervention. Truly a Vampire: The Eternal Struggle staple, it is worth considering including in almost any deck. It hasn´t been printed since 2006, so it has been somewhat hard to get, but now it can be yours for just $0.35, with powerful new art by Ginés Quiñonero.

Some words from the artist:
When I started thinking about the art for Direct Intervention, I wrote down several ideas for its setting, that ranged from some ancient ruins under a blood storm to a bucolic or oneiric landscape. With reference to its characters, I knew for sure that a Methuselah had to be there. Maybe levitating, or perhaps rising from a sarcophagus, or showing a taste of their immense power.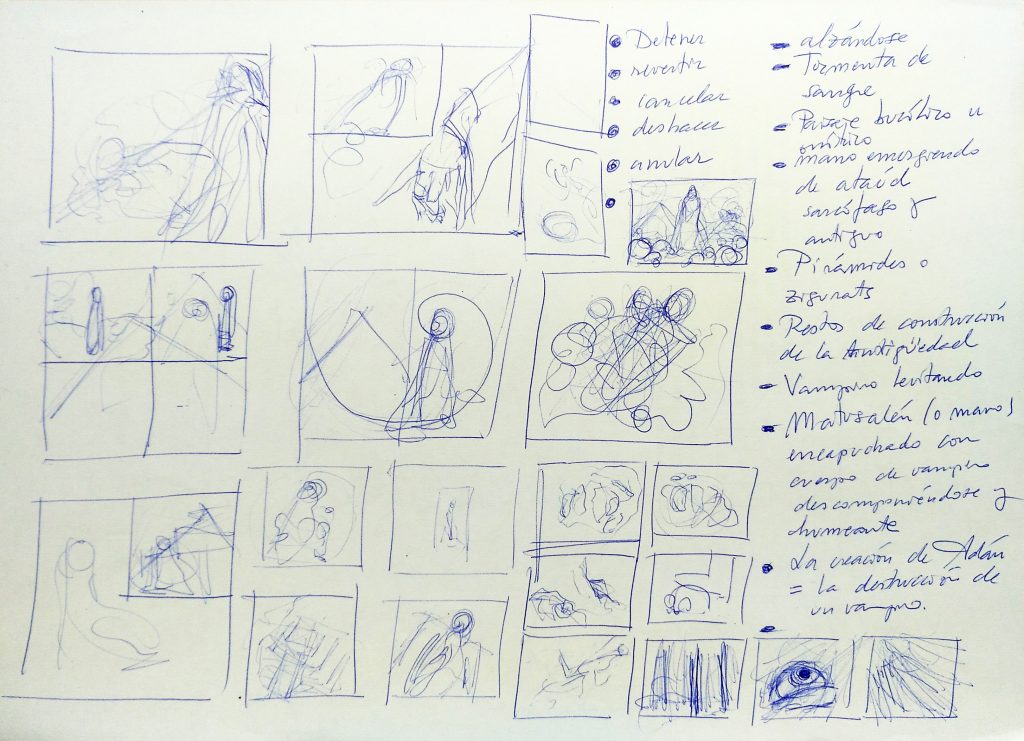 After that, I drew several composition sketches, and chose a scene with a close-up of a hooded Methuselah burning a vampire behind her, before the ruins of a ziggurat. However, that illustration did not come out the way I wanted, and opted for starting a new one.

This time, using a different composition and setting, with the Methuselah's victim in the foreground, and the ancient vampire in the background, in the ruins of Persepolis.

For this artwork, I took into account two compositions: one for the full art, just in case it was used for a play mat; and another one for the card, which has a different aspect ratio.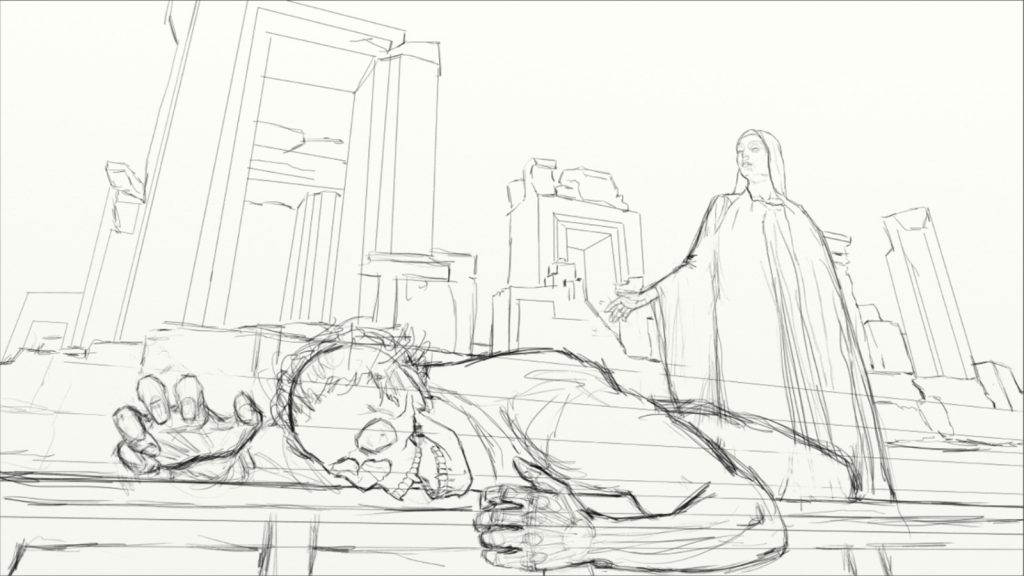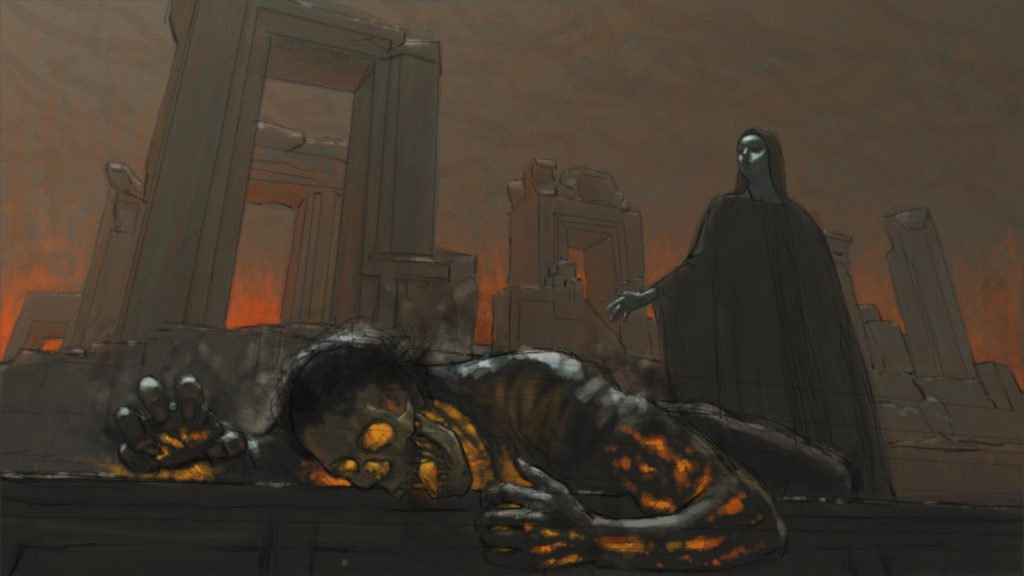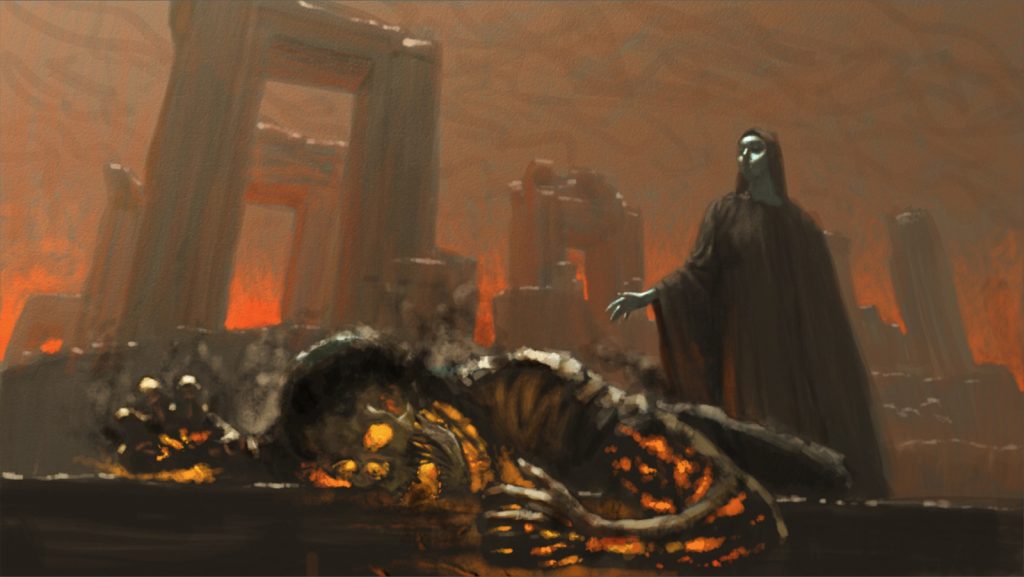 RELATED:
– 470 Vampire: The Eternal Struggle Legacy cards now at Drivethrucards!
– No, Vampire: The Eternal Struggle in Latin is not a joke
Copyright © 2023 Paradox Interactive AB. www.paradoxinteractive.com. All rights reserved. Vampire: The Eternal Struggle and Vampire: The Masquerade® are trademarks and/or registered trademarks of Paradox Interactive AB. All rights reserved.