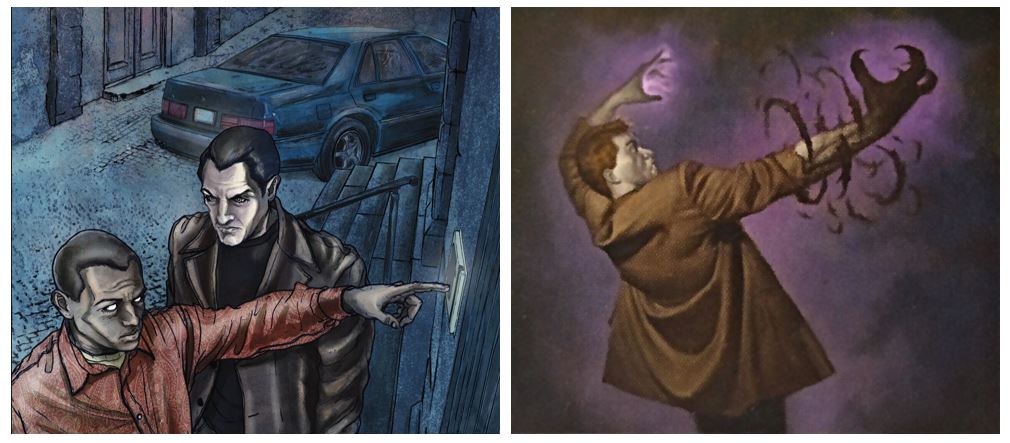 Black Chantry Productions would like to apologize for two errors in Vampire: The Eternal Struggle card texts recently, and show the correct texts. We cannot replace customers of practical reasons, but the correct texts will appear on the cards in future print runs.

ERROR IN CARD TEXT: MURMUR OF THE FALSE WILL
The card text in the first 25th Anniversary printing indicate you do not lock the minion for the redirect effect. This is wrong – you do lock the minion. Correct card text:
Murmur of the False Will
[ACTION MODIFIER] Only usable during a bleed action. +1 bleed (limited).
[DOM] [REACTION] Only usable if a younger vampire is bleeding you, after blocks are declined. Lock this reacting vampire. Change the target of the bleed to another Methuselah other than the acting vampire's controller (that Methuselah can attempt to block).

ERROR IN CARD TEXT: DABBLER
The card text in the first printing of Heirs to the Blood 2 bundle indicate the card is only usable on your own actions. That is not the case; you can use it in other player´s turns. Correct card text:
Dabbler
Archetype. Trifle. Put this card on a vampire you control. Once each turn, this vampire can gain 1 blood or burn 1 blood to unlock after an action (successful or not) is performed during which they used 3 or more Disciplines to play cards. A vampire can have only one archetype.
Copyright © 2023 Paradox Interactive AB. www.paradoxinteractive.com. All rights reserved. Vampire: The Eternal Struggle and Vampire: The Masquerade® are trademarks and/or registered trademarks of Paradox Interactive AB. All rights reserved.